Mike McMeekin & Kyle Davy
Engineering Change Lab – USA (ECL-USA) Summit 11 featured a deep dive into how engineering and the engineering community can contribute to meeting the challenge of climate change and how engineering might be transformed by the way it responds to the emerging risks of climate change. To observe the journey the engineering community could follow to make this contribution, scan the "Map of The Future for Engineering and The Grand Challenge of Climate Change" that emerged from Summit 11. The map identifies ten "Key Steps" the engineering community can take to help society achieve carbon neutrality and reduce the threat of climate change.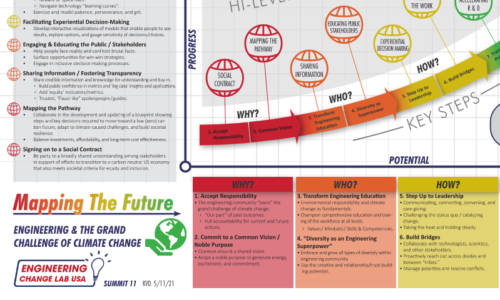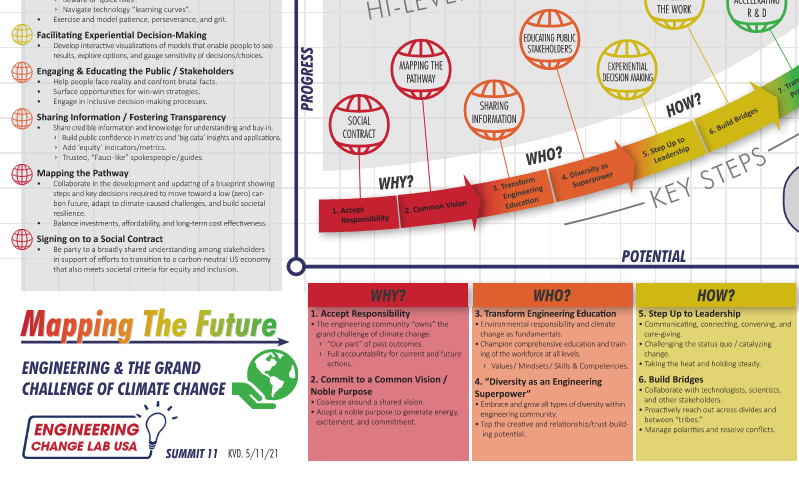 The map highlights a flywheel effect where momentum builds with the accomplishment of each successive key step over the next decade – ultimately leading to breakthrough results that drive progress in deep de-carbonization, adaptation and building resilience. Along the way, engineers may also engage in a set of "Hi-Leverage Actions/Activities" that overcome inertia in existing conditions and further accelerate societal growth and progress.
Representative of the first two Key Steps on the map, participants in Summit 11 reflected on the potential emergence of a "noble purpose" or "common vision" for the engineering community centered on the climate change imperative. Despite the multiple, cross-disciplinary roles and responsibilities for the engineering community in addressing climate change, this common vision does not currently exist.
There are other recent, noteworthy examples of group action related to climate change. These examples come from other professions, from the business community, from the public sector, and from the non-profit sector.
American Institute of Architects (AIA). In 2019 AIA's membership approved a "Resolution for Urgent and Sustained Climate Action" along with updates to its ethical guidelines and obligations for its membership.
In January 2021 BlackRock, Inc., the world's largest asset manager requested CEO's of companies in which it holds shares to define their plan to achieve net-zero emissions by 2050.
We Mean Business Coalition. This non-profit is now supported by more than 500 of the world's most influential businesses that are committing to cut U.S. greenhouse gas emissions by at least 50% below 2005 levels by 2030.
Rocky Mountain Institute Mission Possible Partnership. This coalition of 400 companies is working to decarbonize heavy industry.
Local Actions. Cities, states, and utilities across the country are taking local action to set climate action goals and establish strategies.
The participants in Summit 11 drafted 12 versions of a Noble Purpose Statement. These 12 versions contained common elements.
Embrace a trusted leadership role for the engineering community in educating the public.
Focus on the positive economic potential of addressing climate change.
Contribute to science-based, data-driven, practical, and flexible shifts in public policy.
Drive private sector innovation.
Respect the natural environment.
Incorporate justice and equity as key elements of climate change strategy, including addressing those impacted negatively by an energy transition.
Include our traditional role in designing and implementing energy infrastructure.
Foster engineering social entrepreneurship.
Transform engineering practice through a broader view of engineering ethics and a systems-thinking perspective.
The participants in ECL-USA Summit 11 expressed enthusiastic support for continuing the discussions related to the development of this noble purpose/common vision concept for the engineering community. Hopefully, this commitment, along with the learning from Summit 11, can serve to inspire positive change within engineering and the engineering community. If you are interested in participating in this effort, please reach out to Mike McMeekin (mike.mcmeekin@lamprynearson.com). Stay tuned for further developments.
You can read more about ECL-USA Summit 11 at this link (Summit 11 Report).