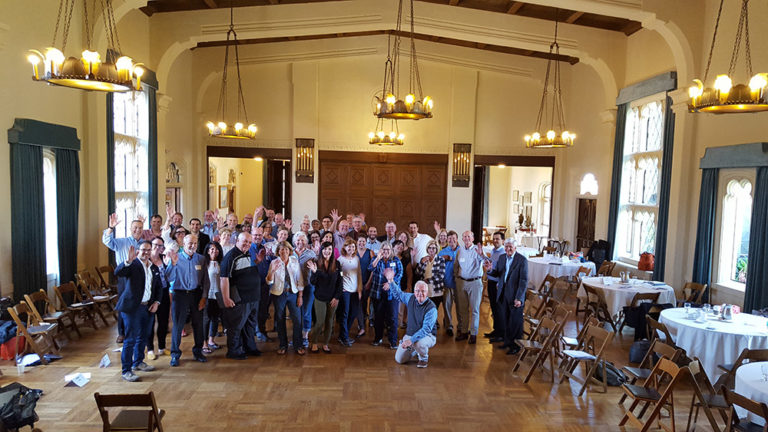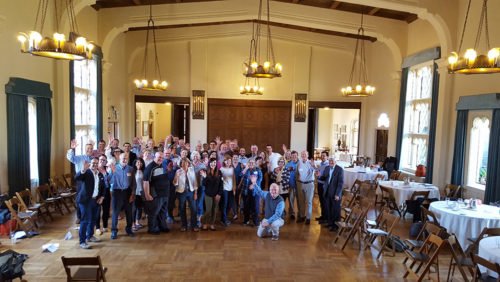 Engineering Change Lab-USA (ECL) convenes two to three times a year to share perspectives, deepen our understanding of engineering's emerging future, and to launch experiments and focused initiatives designed to foster change across the entire engineering system. Contact us to learn more about how you or your organization can engage with, and benefit through participation with the ECL.
The Engineering Ideas Institute III (Summit 16) – September 26-28, 2022
In 2019, the leadership of Engineering Change Lab – USA (ECL) conceived the idea of the Engineering Ideas Institute. Our goal for the Institute is to annually convene diverse change leaders from across the Engineering Community for a longer-form, deeper exploration of the most important issues that will define the future of engineering.
Participants in the third edition of the Engineering Ideas Institute will learn, share perspectives, provoke new ways of thinking, and find avenues for action related to two important topics described below. Advancing our knowledge in these two areas aligns with ECL's mission to catalyze action in the engineering community through deep learning and interdisciplinary collaboration. We invite you and your associates to join us for the Institute.
The Regenerative / Circular Economy Opportunity and the Future of Engineering
The first focus area for the Institute will be regenerative practices, circular economy innovations and biomimicry as keystone strategies for addressing the engineering challenges of the 21st century. It is not enough for those of us in the engineering community to minimize the negative environmental and social impacts of our work. Our communities and society need our leadership in restoring damaged environmental and social systems and building resilience to future challenges. The elements of this discussion will include the following.
Advancing understanding and building capacity related to systems thinking and living systems approaches.
Exploring regenerative practices that protect, restore, and replenish human capital and natural resources.
Understanding how circular economy concepts are transforming agro-forestry, water, urban development, building design and industrial systems.
Learning to use nature and leverage biomimicry as sources of inspiration for engineering design and models for regenerative and circular economy practices.
Considering and discussing how these trends will impact engineering organizations (stakeholder engagement, talent requirements, organizational structure, financial metrics, etc.).
Provocateurs for this focus area will include:
Daniel Lawse, Principal and Chief Century Thinker, Verdis Group. Daniel will describe his work that is centered on regeneration of living systems, including utilizing biomimicry as one aspect of living systems. He will also provide examples of how building capacity within people can help push organizations to set regenerative (net positive) goals rather than just reduction (net zero) goals.
Maury Salz, Retired President of CLAAS Omaha and Past President of the American Society of Agricultural and Biological Engineers (ASABE). Maury will describe ASABE's initiative to transform our food and agricultural systems to a circular economy. He will emphasize ASABE's desire for cross-disciplinary collaboration to meet their circular economy goals.
The Engineering Community as Leaders of Change
The second focus area for the Institute will be the engineering community's role as leaders of change for the benefit of society. We will use both provocations and case studies to identify principles, capacities, and strategies for leading change and engaging in adaptive work in a variety of settings from education to practice to public policy. We will also explore the first five years of ECL and our ongoing initiatives to harvest insights and lessons learned about catalyzing change.
Case Studies.

ASCE Future World Vision (FWV). FWV offers the opportunity to learn how visionary scenarios of the future can be vehicles for deep change. This case study will again illustrate systems thinking as a fundamental enabler of deep change. We will also examine how scenarios like FWV can be an inspiration for culture change within engineering and an attractor for young people considering the engineering community as a potential career.
Macro-Ethics. Sometimes it takes courageous, individual action to catalyze change. We will look at the case of engineer Frances Haugen and Facebook for lessons learned about when this type of action is necessary.
The First Five Years. ECL is celebrating its fifth anniversary in 2022. Reviewing our first five years will provide the opportunity to learn where we have had a positive impact, where we need to increase our impact, and how the tools for leading change that we have explored (dialogue, scenarios, polarity mapping and innovation matrix) can assist us in leading change.
Provocateurs for this focus area will include:
Jerry Buckwalter, Chief Innovation Officer, American Society of Civil Engineers. Jerry will describe how ASCE views their Future World Vision initiative as an inspiration to change the culture of civil engineering.
Juan Lucena, Director and Professor, Humanitarian Engineering, Colorado School of Mines. Juan will discuss his efforts to subvert and change engineering education, through instilling a greater sense of understanding of the economic and political systems that impact engineering.
Rex Miller, Coach, Research and Practitioner, MindShift. Rex will describe his experiences in leading change initiatives.
The 2022 Engineering Ideas Institute will again be held at The Colorado Chautauqua on the outskirts of Boulder, Colorado. This proved to be a great venue for the Institute last year, and we will again design our program to take advantage of this beautiful and historic setting. You can register for the Institute at the link below. There is limited onsite housing available, so if you would like to make an early reservation, please reach out to Mike McMeekin (mikemc@ecl-usa.org).
ENGINEERING IDEAS INSTITUTE REGISTRATION
Individuals and organizations that participate in ECL discussions and events are committed to continually exploring new ideas and elevating their contributions in support of a thriving, resilient world. To ramp up our impact and our effectiveness, we need multiple, diverse voices to join in the discussion. We invite you to join us in Boulder. You will contribute to a growing movement to catalyze action in the Engineering Community, and, through our approach of combining learning from thought leaders with collaborative discussion, you will gain valuable insight and knowledge that you can take back to your organization.
Past Summits
Technological Stewardship (Summit 15), Presented in Collaboration with ECL-Canada, June 14, 2022. Since the dawn of humanity, our technologies have transformed the world around us, adapting our environment to meet our needs and wants. Over the last 150 years, the Engineering Community has played a primary role in the creation and application of physical, digital, and biological technologies. This summit introduced Tech Stewardship as a professional identity, orientation, and practice that can support us in navigating the complex tensions inherent in our work, broadening our perspective about potential impacts of our efforts, and bending the arc of technology towards greater good. A complete report from the summit is available at this link (TS Summit Report).
Summit 14, Augmenting the Engineering Workforce Through Technological Innovation, March 15, 2022. The Engineering Community is facing an unprecedented talent crisis. Unemployment rates for the industry are less than three percent. The retirement of baby boomers continues. The number of new graduates is increasing at low rates. Meanwhile, the demand for new talent continues to increase dramatically, driven by a growing economy and increasing investments in infrastructure. These stresses on our workforce come at a time when the Engineering Community is challenged by the need to contribute at higher levels in addressing the challenges of the 21st Century. Summit 14 explored how technology may be viewed as a significant strategy for closing this unfolding supply and demand gap – augmenting the engineering workforce using emerging technologies to increase productivity, enhance creativity, and work more efficiently and safely. Key takeaways and important strategies as well as a map of the summit outcomes are available at the links below.
AUGMENTING THE ENGINEERING WORKFORCE THROUGH TECHNOLOGICAL INNOVATION
MAP OF THE FUTURE:  TECH INNOVATION FOR WORKFORCE AUGMENTATION
Summit 13, The Engineering Ideas Institute II, October 11-13, 2021. The second edition of The Engineering Ideas Institute (first in-person) was held at The Colorado Chautauqua in Boulder, a historic venue located at the foot of the mountains. The program for the summit focused on two major themes.
Engineering in an Age of Acceleration. How are the forces of acceleration in technology, the natural environment, and society impacting engineering?
Engineering and Justice. What can we learn about engineering's roles in contributing to racial inequality? What can we do, through our work, to help create a more just, equal, diverse, and inclusive society?
ENGINEERING IN AN AGE OF ACCELERATION REPORT
ENGINEERING AND RACIAL JUSTICE REPORT
Summit 12, The Engineering Firm of the Future, June 16, 2021. How will the engineering firm of the future be transformed in the coming decade? Summit 12 explored a set of driving forces that will reshape the environment within which firms operate, their internal business models, and models of practice. Themes explored included the following.
How will the external landscape within which engineering firms operate be reshaped by global risks and technology accelerators?
What aspirations, values, and needs will new generations of engineering talent manifest as they join and build careers within firms?
View the Summit 12 Report here.
Summit 11, The Imperative of Climate Change and the Future of Engineering, March 22, 2021. How will engineering and the engineering community be transformed by the way it responds to the emerging dynamics of climate change and the threat it poses to our world? How might its stewardship of technology and nature on behalf of society be manifest in helping society confront this climate imperative? Summit 11 explored the roles the engineering community can play within and across the private sector, public sector, and the non-profit sector to answer these questions. View the Summit 11 Report here.
Summit 10, Licensure Models for the 4th Industrial Revolution, December 16, 2020. Summit 10 was presented in partnership with the National Society of Professional Engineers and the National Council of Examiners for Engineering and Surveying. The participants in the summit explored the future of licensure for engineering and the role licensure and regulatory bodies can play in ensuring that engineers and organizations engaged in the development of the technologies of the Fourth Industrial Revolution act in the public interest. View the Summit 10 Report here.
Summit 9, The Engineering Ideas Institute, July 29-30 & August 4-5, 2020. Summit 9 featured deep dives into four of the strategic issues of the future.
Technological Driving Forces – Social Impacts of Technology / Building Capacities for Stewardship of Technology (Session 1 Report)
Environmentally Responsible Engineering Leadership Challenges – Building Capacities for Leading ERE Work / Leading the Change (Session 2 Report)
Diversity Challenges – Exploring Barriers and Enablers for Women and Under-Represented Minorities in Engineering (Session 3 Report)
Public Policy: Enabling Engineering Leadership in the Public Policy Arena (Session 4 Report)
Summit 8, March 10 & 11, 2020, Texas Medical Center Innovation Institute, Houston, TX. The themes of Summit 8 included exploration of the future of engineering through the lens of biomedical engineering and the stewardship role of engineers with respect to climate and extreme weather challenges, both of which are major issues for Houston and the Gulf Coast. View the Summit 6 reports on biomedical engineering and climate and extreme weather challenges.
Summit 7, October 21 & 22, Boston, Massachusetts. Summit 7 continued the work of ECL-USA on technological driving forces that are transforming the way engineers do their work and also included a deep dive into the future of consulting engineering. View the Summit 7 report.
Summit 6, July 15 & 16, 2019, Berkeley, California. Summit 6 was a joint effort of ECL-USA and ECL-Canada focusing on engineering ethics in a world of rapid technological change and engineering entrepreneurship. Summit 6 was held at the historic Berkeley City Club. View the Summit 6 reports on engineering ethics and entrepreneurship.
Summit 5, March 5 – 6, 2019, Kansas City, Kansas. This Summit focused on K-12 Education and Engineering, and Engineers and Public Policy. Thank you Blue Valley CAPS for a great meeting facility and for introducing us to an innovative program. View the Summit 5 Report.
Summit 4, October 25 – 26, 2018, Denver, Colorado. The primary goals of Summit 4 were to hear from provocateurs, to explore key concepts for the lab (Technological Change, Change in the Academy, and the Intersection of Technology and Nature); and to advance the work of our focused initiative. View the Summit 4 Report.
Summit 3, June 12 – 13, 2018, Omaha, Nebraska. At Summit 3, the attendees explored the Vision Statement's imperative for the engineering community to serve as stewards of technology, the built and natural environments, and public health, safety and welfare, and worked on a definition of stewardship. Additionally, time was spent on expanding our understanding of and commitment to the role that the ECL-USA can play, and how we could continue to evolve the ECL-USA as a social change lab. View the Summit 3 Report here.
Summit 2, February 5 – 6, 2018, Omaha, Nebraska. The objectives of Summit 2 were to explore the prospect of, and process for, moving the engineering profession toward fulfilling its highest potential in the emerging future; crystallize the intent of the ECL – USA and commit to using a social laboratory approach in taking on this work; recognize and make progress on focused initiatives begun at the first summit; organize ECL – USA, including structure, participation, communication protocols, and plans for future summits.
View the Summit 2 Report here.
Summit 1, July 31 – August 1, 2017, Omaha, Nebraska.  This first Summit was convened to evaluate whether there was a need for the ECL-USA, and to gauge overall interest in the effort.  The Summit heard from Engineering Change Lab – Canada, conducted scenario planning exercises, discussed other efforts ongoing in the United States, identified several initiatives, and identified next steps. View the Summit 1 Report here.