By Kyle V. Davy AIA and Mike McMeekin PE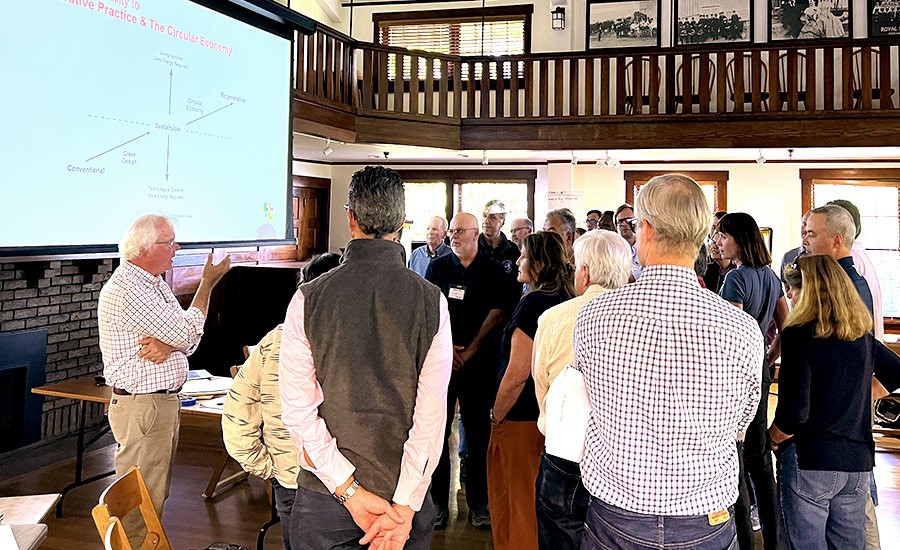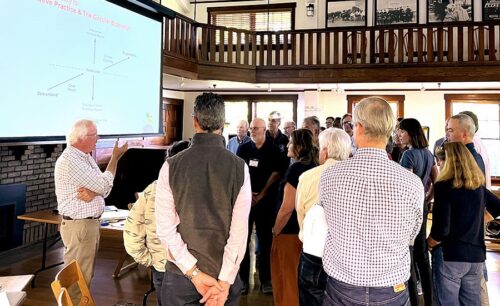 Sustainability is not enough.
Escalating climate, infrastructure and social crises are outpacing efforts to address them with sustainable practices. The engineering community has the tools and strategies to take us beyond sustainability — both to address dire challenges and to restore living systems. Circular economy and regenerative approaches are principal means for achieving these ends.
Engineers and their allied fields must have the commitment and courage to step up and engage in the hard work of leading change to benefit society.
These propositions were at the heart of the 2022 Engineering Ideas Institute convened by the Engineering Change Lab – USA (ECL) in Boulder, Colorado. This summit drew on provocations, exercises, nature walks and dialogues to shift minds and prompt participants to think differently about the future of engineering. This year's Institute focused on circular economy and regenerative strategies to push society toward a healthy, resilient future.
Championed by the Ellen MacArthur Foundation, a circular economy "…decouples economic activity from consumption" and replaces linear production with circular models designed to eliminate waste and pollution, optimize recycling, reduce the use of fossil fuels, and regenerate natural systems.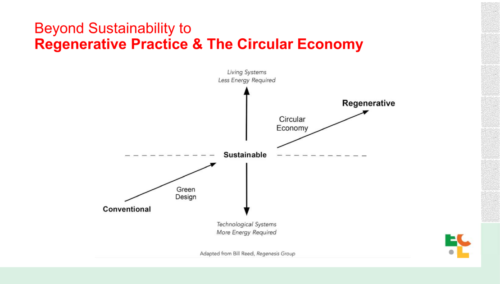 Maury Salz, past president of the American Society of Agricultural and Biological Engineers (ASABE), described ASABE's new initiative to move the bioeconomy (agriculture, forestry, and aquaculture) toward increased circularity (asabe.org/CBS).
Salz used the evolution from open-field farming to precision indoor farming systems to illustrate the potential benefits within the entire value chain (production, harvest/storage, processing/packaging, sales, and consumption). The benefits will be seen in resource use, climate change impacts, human health, biodiversity, and economic well-being. He emphasized that this transformation will require increased engagement of engineers with circular bioeconomy systems, as well as robust interdisciplinary alliances across the engineering community to develop an action agenda.
Institute participants reflected on how current systems that the engineering community practices within (procurement, funding, standards, etc.) are not conducive to circular economy thinking and on the needed transformation from thinking in terms of parts to seeing whole systems.
The goal of regenerative approaches is to restore and breathe life into the living systems within which our technologies, businesses and economies are nested. Daniel Lawse, principal of the Verdis Group, emphasized that engineers need to do more than simply learn new practices to achieve regenerative outcomes — they must adopt a "new way of thinking, seeing and being in the world" to lead society toward a regenerative future. He highlighted four critical shifts that are key to this new way of thinking – separate to connected, inert to living, short-term to long-term, and closed systems to open systems.
In an extended dialogue Institute participants reflected on the role of the engineering community in helping in the evolution of living systems. Several noteworthy comments from the dialogue are noted below.
We have a professional and ethical responsibility to create a regenerative and resilient world.
The American value of individualism is contrary to the concept of living systems.
We in the engineering community think of ourselves as problem solvers; we look at our role as to enlighten rather than to learn.
Our challenge is to continue to improve quality of life but with a different approach than in the past.
"The changes in our future built environment will not be apparent for many years, however, the first steps should be taken now to prepare for it. If we wait for the nature of our future infrastructure to become obvious, we will be too late to optimize society's use of it and reduce the risks inherent in building it." This provocation by Jerry Buckwalter, chief innovation officer of ASCE, linked the imperative for engineers to lead change with ASCE's Future World Vision initiative (futureworldvision.org).
Buckwalter noted a dilemma that engineers face as change leaders. "We are not taught to embrace change — we are taught to solve problems with familiar tools." He urged engineers to spend time thinking nontraditionally and balancing contrarian thinking with respect for tradition, and "to be curious, not critical…to keep learning, adjust, try again, and keep the long-term objective in mind."
In his provocation on making social justice visible and valuable in the education of engineers, Juan Lucena, director of the Humanitarian Engineering undergraduate programs at the Colorado School of Mines, emphasized the need to show explicit relevance of engineering to the challenges facing historically underserved communities. He described engineering as socio-technical, addressing challenges that simultaneously involve both people and technical issues. He focused on challenging engineering mindsets through curriculum transformation. Engineering curricula currently foster an assumption that technologies can be divorced from the social and living systems that surround them but adding coursework at the margins while leaving the core intact will not shift that assumption. Embedding social justice as a valued element of engineering practice requires transformation at the heart of the curriculum.
Rex Miller, author and thought leader, models his theory of leading change on barn-raising principles — bringing a community together to tackle a shared "gnarly problem." His "mindshift" approach begins with assembling diverse stakeholders and building trust to create a real team capable of engaging in this difficult work. Leaders then create enclaves for exploration and experimentation, generate the critical mass to shift the system, and prepare for inevitable resistance.
In a second dialogue, Institute participants considered what they have learned about the engineering community as change leaders on behalf of society. Several of the important thoughts that emerged are captured below.
Engineers are good at leading other engineers, but our voice is noticeably absent in policymaking.
Engaging with communities to a greater degree is needed to lead change.
I cannot lead change until I can better frame the problems we are trying to solve.
Leading change is a complex adaptive process, different from technical work.
The white papers documenting the Institute are available at the links below.
Provocateur presentations are available at the link below.