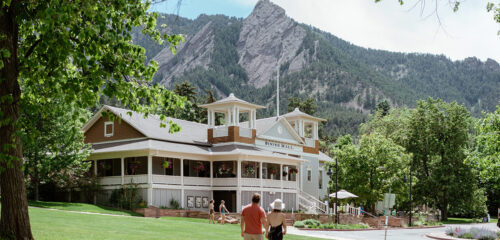 In dealing with the future … it is more important to be imaginative and insightful than to be one hundred percent right."
Alvin Tofler, Future Shock, 1970
Artificial intelligence, autonomous vehicles, climate change and extreme weather events, advances in genetic and biological science, shifting global geopolitics, the new space race, the long tail of COVID, rising income inequality and poverty traps, escalating cybersecurity threats, and imperatives for social and environmental justice. How will the intersection and interaction of these forces, and more, play out in the future? How should the engineering community respond to fulfill its role as stewards of technology and nature on behalf of society? What can the engineering community do today to influence how the future might unfold?
The 2023 Engineering Change Lab – USA (ECL) Engineering Ideas Institute, to be held from September 25-27 at the Colorado Chautauqua in Boulder, CO, will examine how the engineering community can use scenario thinking to become more agile, flexible, and resilient in the face of an uncertain, complex, and rapidly changing world. Provocateurs, group dialogue and exercises, nature walks, and opportunities for personal reflection will be used to challenge assumptions and stretch imaginations as participants collectively create and use scenarios to explore the future of engineering.
Objectives:
Improve habits of paying attention to unfolding trends and conditions.
Experience the art of crafting future scenarios or "stories of the future."
Explore critical challenges facing the engineering community posed by alternative futures, including inquiries with respect to dimensions such as:

Emerging technologies
New practice paradigms for engineering & the engineering workplace of the 21st Century
Macro-ethical challenges
Unsticking the engineering pipeline with respect to DEI
Engineering the unfolding energy transition to "net zero"
Challenges in climate change resilience and adaptation

Be better prepared for the future that does unfold and enhance decision-making capabilities in the face of uncertainty.
Recognize signs of major shifts early enough to take appropriate action.
Set the agenda and identify possible actions that the engineering community can take to influence future events and increase its contribution to society.
Join us at the Engineering Ideas Institute to imagine possible scenarios, inquire into best responses, and become more future-ready, personally, organizationally, and as a leader within the engineering community. Register for the summit at this link.
Pre-Reading: Imaginable: How to Create a Hopeful Future, Jane McGonigal, Spiegel & Grau, 2022.
Scenario Planning Train-the-Facilitator Virtual Learning Experience
Imagining and experiencing scenarios, or "stories of the future," is a critical way for individuals and organizations to enhance their ability to act and make decisions in the face of the volatile, uncertain, and complex conditions that characterize our current reality. Learning how to design and facilitate basic scenario planning processes can be a significant leadership skill for members of the engineering community to develop.
Following the 2023 Engineering Ideas Institute, Engineering Change Lab – USA (ECL) will offer a virtual "train-the-facilitator" learning experience as a complement to the scenario planning work that participants will engage in during this year's Institute. The primary objective for this learning experience is to equip interested participants with knowledge and skills that will enable them to design and facilitate scenario planning processes within their own organizations and firms. Content will include:
Reflections on and lessons learned from the Engineering Ideas Institute scenario planning experience.
A game plan and template for scenario planning, following the design and process used for the 2023 Engineering Ideas Institute that will cover:

Pre-session activities
Generating scenarios
Using scenarios
Recommended resources

Imagining how to deploy scenario planning in your own organizations and firm.

Alternative approaches to consider.

Facilitation strategies and interventions.
For this train-the-facilitator experience participants will be asked to attend two three-hour virtual sessions scheduled 1 to 2 weeks apart. For more information contact Mike McMeekin (mikemc@ecl-usa.org).