Since the dawn of humanity, our technologies have transformed the world around us, adapting our environment to meet our needs and wants. Over the last 150 years, the Engineering Community has played a primary role in the creation and application of physical, digital, and biological technologies, from infrastructure and energy systems to digital twins and artificial intelligence to gene splicing and bio-printing.
In today's world, the power and reach of new technologies is ever-expanding, and the pace of technological change is accelerating. Now more than ever, it is imperative that those of us involved in the creation and application of all types of technology consider the social, environmental, and ethical impacts of our work. Engineering Change Lab – USA's (ECL) latest summit introduced the work of Engineering Change Lab – Canada in Technological Stewardship (TS) as a professional identity, orientation, and practice that can support us in navigating the complex tensions inherent in our work, broadening our perspective about potential impacts of our efforts, and bending the arc of technology towards greater good.
Mark Abbott, Director of ECL-Canada and Director of Tech Stewardship at MaRS Discovery District, kicked off the summit by recapping their eight-year journey that has resulted in their current focus on catalyzing and supporting a TS movement. The main purpose of ECL-Canada's TS Practice Program is to ensure that technology is beneficial for all by impacting the creators and implementors of technology, such as the Engineering Community. The TS Practice Program is founded on three core commitments.
Advance Understanding
Deliberate Values
Practice Behaviors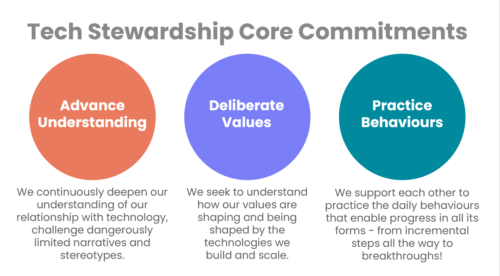 Provocateurs Janna Rosales, Professor at Memorial University of Newfoundland, and Micheal Mooney, Executive Director of Creative Labs North and President-Elect of the Ontario Association of Certified Technologists and Technicians, informed the summit discussions with reflections on the incorporation of TS into their segments of the Engineering Community. Janna described her experiences in teaching TS, through the integration of TS into her Engineering Professionalism courses and through the application of TS in students' capstone projects. Micheal outlined his goal to incorporate TS into regulation and licensure.
Group exercises at the summit were designed to explore the three core commitments. Key insights are summarized below.
Advance Understanding. This core commitment centers on the conflict between "Can we do it?" (tech development) and "Should we do it?" (tech stewardship). The Engineering Community often gives inadequate consideration to the "Should we do it?" aspect of technologies. TS requires a greater understanding of systems thinking, greater attention to potential unintended consequences, and breaking down silos that prevent collaboration between the "Can we do it?" and "Should we do it?" perspectives. Tech stewards avoid either/or decision-making and look for both/and solutions.
Deliberate Values. Technology is not value neutral. Our values shape technology, and our values are shaped by technology. TS requires self-awareness regarding our personal values, perspicacity to see those values in play in our work, and an awareness of the values that are often missing in engineering. We also need to ensure that the Engineering Community is open to a diverse set of values, including those missing values.
Practice Behaviors. TS is characterized by four key behaviors – Seek Purpose, Take Responsibility, Expand Inclusion, and Work to Regenerate. The TS Practice Program seeks to ensure that spaces, or pauses, to consider value tensions and practice these behaviors is commonplace in the work of the Engineering Community.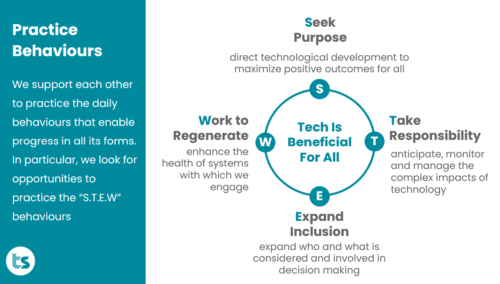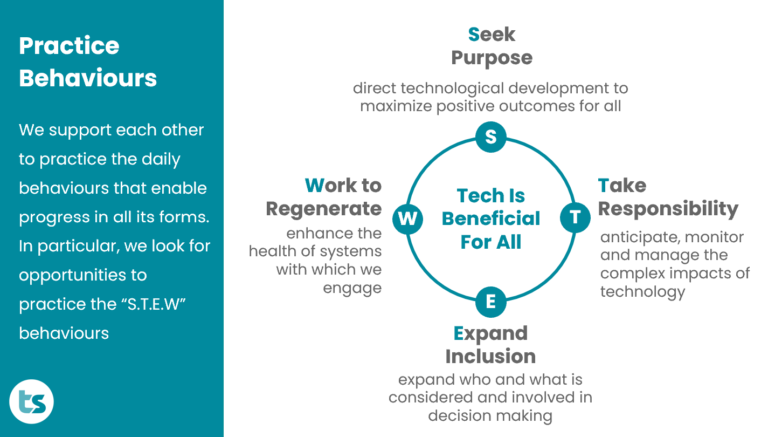 To learn more about ECL-Canada's TS work, visit this link.
Look for a detailed white paper documenting the summit soon. Provocateur presentations are available at the link below.
TS Summit Provocateur Presentations
A full recording of the summit is available at this link.
ECL's next event will be the third edition of the Engineering Ideas Institute, to be held from September 26-28 at the Colorado Chautauqua in Boulder, Colorado. Focus areas for the Institute will include "The Regenerative / Circular Economy Opportunity and the Future of Engineering" and "The Engineering Community as Leaders of Change." You can register for the Institute at the link below.